Wolverine Pipe Line Company has been providing communities with the refined products they need to fuel their prosperity. Wolverine was incorporated in 1952 and the first pipeline was laid from Hammond, Indiana to Detroit, Michigan, and Toledo, Ohio in 1953. Since then, Wolverine has expanded to meet the growing needs of our customers. Today, we operate 700 miles of pipeline in Illinois, Indiana, and Michigan transporting fifteen million gallons of products a day.
WOLVERINE SYSTEM OVERVIEW
Wolverine Pipe Line Company transports liquid petroleum products like gasoline and diesel fuel from refineries and terminals in the Chicago area to terminals and other pipelines in Northwest Indiana and Michigan. Wolverine never owns the products we transport. The products are moved through the pipeline in large batches (5,000 to 200,000 barrels) via pump stations along the pipeline. The products are measured when they enter the system and when they leave the system providing a ticket for each customer of how much product was moved from point to point.
Wolverine's pipeline system is monitored 24 hours a day, 7 days a week, 52 weeks a year by qualified Pipeline Controllers in our Operations Control Center. The Controller has the responsibility to manage the system operation, respond to alarms, and remotely shut down the pipeline if necessary.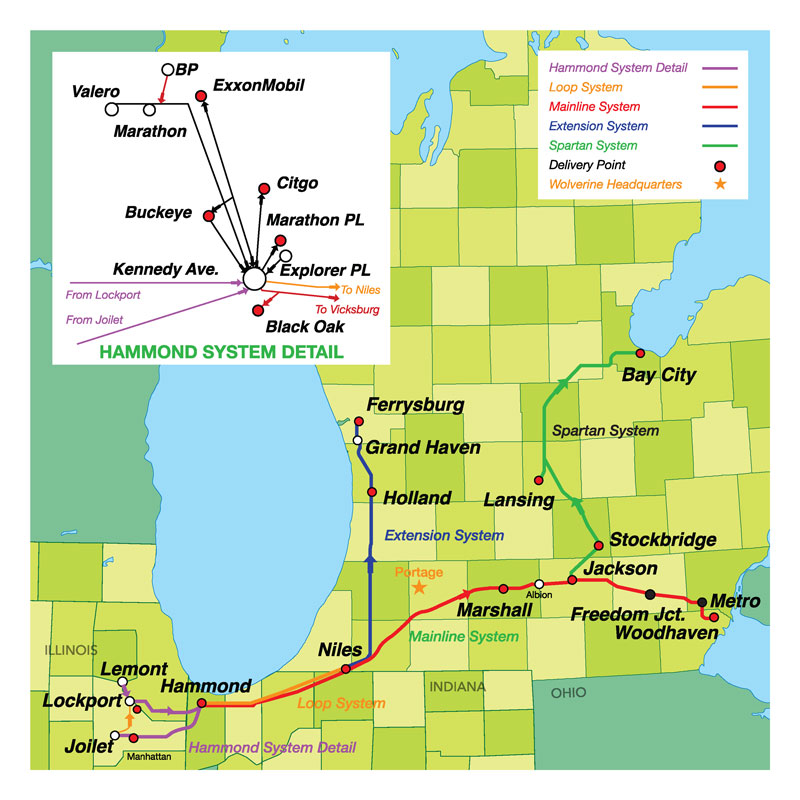 Wolverine Pipe Line can receive from and deliver to the following refineries, pipelines and terminals:
Location
Facility Owner
Hammond, IN
BP Whiting Refinery

Buckeye Hammond Terminal

CITGO East Chicago Terminal

Explorer Pipeline Hammond

Marathon Hammond Terminal

Valero Hammond Terminal

Joilet, IL
ExxonMobil Refinery
Lemont, IL
CITGO Refinery
Niles, MI
Buckeye Terminal

CITGO Terminal

Marathon Terminal

Tanks R Us Terminal

Stockbridge, MI
Marathon Terminal
Bay City, MI
Marathon Terminal
Ferrysburg, MI
Buckeye Terminal

CITGO/Buckeye Terminal

Gary, IN
BP Pipeline Black Oak
Hammond, IN
Buckeye Hammond Terminal

CITGO East Chicago Terminal

ExxonMobil Hammond Terminal

Marathon Pipeline Hammond

Holland, MI
Holland Terminal
Jackson, MI
CITGO Terminal

Marathon Terminal

Lansing, MI
Marathon Terminal
Lockport, IL
ExxonMobil Terminal
Marshall, MI
Buckeye Terminal
Niles, MI
Buckeye Terminal

CITGO Terminal

Marathon Terminal