Community awareness through interaction:
The Wolverine PIPE Program
In early 2010, Wolverine Pipe Line Company launched a new and innovative program aimed at educating and enhancing relationships with every community and key stakeholders along Wolverine's 700+ miles of underground steel pipeline. Since then we have visited over 90 communities across Michigan, Indiana & Illinois.
Reach out today to request a PIPE Presentation to learn more about Wolverine Pipe Line Company's operations in your community.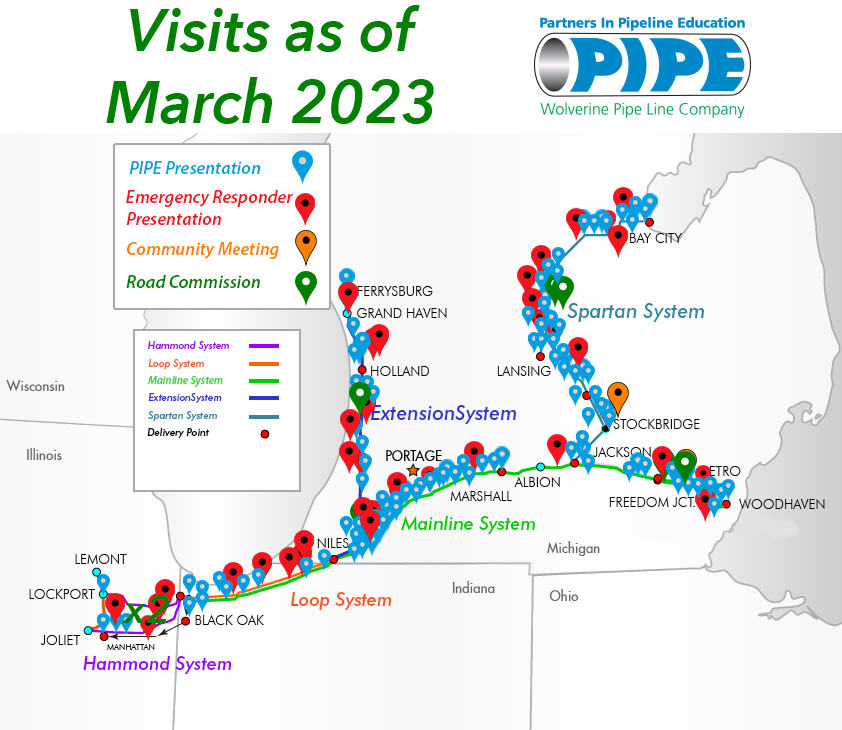 Wolverine's community outreach program is called Partners in Pipeline Education or PIPE. Through the PIPE Program, we make personal connections to the local Fire Departments, Police Departments, Emergency Management Personnel, Government Officials and other stakeholders with whom we work with for normal operation and maintenance activities and in case of an actual emergency.
We believe community education is a key ingredient to help keep our pipelines safe, and that it takes a partnership between our company and its employees, and the community to prevent accidents which could cause a leak or spill. 
Each PIPE Program is customized to the needs of the audience and can include presentation and video materials that discuss Wolverine's history, pipeline operations, regulations, safety, accident prevention, right-of-ways, emergency response preparation, one-call, and other topics.
This presentation is also available to be shown to groups and organizations whose members may come in contact with pipelines, including environmental, construction, housing development groups, community, and civic groups.
The PIPE Program is a continuous and ongoing effort to build better relationships with the communities we serve and to educate public officials and citizens about Wolverine's pipeline in their community, and that pipeline transportation is the safest and most efficient method of delivering liquid petroleum products to the market.
The program has continued to be successful, and our number one goal of building relationships with our core communities remains stronger than ever.
Community participation through the Wolverine Good Neighbor Grant Program
Our Good Neighbor Grant Program allows us to fund good works in communities along our pipeline route. The program focuses on supporting schools, emergency first responders, local governments, and other non-profit agencies. Contact us today to learn more about our program or to request an application.