Photo credit to Leader Publications
At Wolverine Pipe Line Company (Wolverine), service to others is a cornerstone of our identity. Whether it's the effort to transport the basic necessities for the industry of our nation or our specialized commitment to devote a day each year to the assistance of our local communities, we deeply care about the people we encounter.
At this year's Day of Caring, several of our team members assisted people in their community. David Brooks, Utility Station Operator from the Niles team, volunteered his 21st of October to help a U.S. army veteran named Keith Knapp. Because Knapp was known to care for neighbors by repairing lawnmowers and snow-blowing their driveways in the winter, Brooks' team was inspired to honor Knapp's legacy of service. In addition to landscaping the veteran's yard, Brooks and our Niles team made sure to fix the veteran's back deck steps. Afterward, they pressure-washed Knapp's garage and did yard work.
Reflecting on the day, Brooks said the opportunity to "do something for a person they are not able to do themselves," drives him to volunteer in his community. Linda Strohl, Senior Nutrition Services for Meals on Wheels of Southwest Michigan, noticed that several of Wolverine's Niles team were veterans themselves and invested in the neighborhoods they helped, "They were so good-natured, good-spirited, and they worked so hard."
Spencer J. Welling, a Field Regulatory Specialist for Wolverine, had a similar experience. In September of this year, he and several others from our Portage Headquarters helped with a variety of projects at Pretty Lake Camp, which assists campers based on their financial, social, or emotional needs. Welling and his team deep-cleaned two grills for the campers, stained a deck, performed trail maintenance, cleaned windows, swept cabin floors, and did several landscaping jobs around the main buildings.
Helping others overcome their struggles motivates Welling to volunteer. Alleviating some of the burdens on the camp workers is worth the effort, Welling says, "They work long hours trying to make the camp the best possible experience for the campers and to just have some fresh hands around that can tend to things that they normally can't, makes a big difference for them."
For Linda Strohl, the teams of Brooks, Welling, and others like them from Wolverine leave a positive impression on the neighborhoods they serve: "In a time where corporations are getting slammed, it puts a very human face on Wolverine. There are lots of ways that companies can choose to interact and support the community and this is one that is very personal, hands-on, and meaningful."
Every work area at Wolverine dedicates a certain day for volunteering and each one serves in different ways. The stories featured here were only a portion of the crews who gave back to their communities. The Spartan North/South teams helped with facility maintenance with United Way of Gratiot and Isabella counties. Our Freedom Team assisted the Foundations Pre-School in Ann Arbor, MI. Finally, our Hammond Team hung cabinets and doors as well as provided trim work for the local Habitat for Humanity. Clearly, when a corporation pursues the good of its community, a culture of kindness emerges. Wolverine's incentivization of volunteering makes possible the charity of its own employees and such culture is worthy of celebration.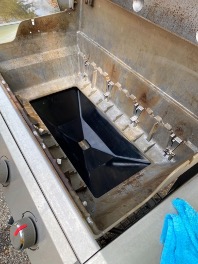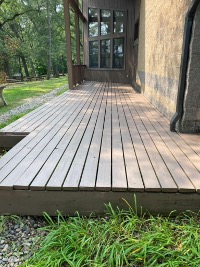 Pictures of the back deck and grills that Portage's team cleaned and restrained at Pretty Lake Camp