Focus on Enhancing Public Safety, Reducing Utility Damages, & Delaying Non-Essential Digging Projects
Portage, Mich. — With the start of Spring, Wolverine Pipe Line Company would like to remind everyone that April is Safe Digging Month in Michigan, Indiana, and Illinois. In response to the COVID-19 crisis, state one-call systems have asked citizens to postpone all non-essential digging projects until 'stay-at-home' or 'shelter in place' orders have lifted, as they are focused on protecting underground services at this critical time.
You may view each state one-call system's press release regarding the COVID-19 crisis by following the links below:
Though circumstances are currently delaying outdoor projects, Wolverine would still like to remind homeowners, farmers, landscapers, contractors, and excavators to always contact their state one-call system by dialing 8-1-1 or http://call811.com/ before digging so underground utilities can be marked.
Safe digging practices not only prevent unintentional damage to pipelines, but also protect against property damage and potential personal injury.
"Please remember that you can never assume you know where a pipeline is located under the ground based on the mowed right-of-way or utility signs and markers," said Right-of-Way and Claims & Public Affairs Specialist at Wolverine Pipe Line Company, Lou Kraus. "It is impossible to tell the depth of the pipeline or if it curves or angles underground. The only sure way to know where the pipeline is located is to dial 8-1-1 and Call Before You Dig."
Every digging job requires a call, from small do-it-yourself activities like planting trees and shrubs and installing mailboxes to large building and road construction projects.
Regardless of when a project starts, here are some safe digging tips for homeowners:
Contact your state one-call system by dialing 8-1-1, or visit http://call811.com/ at least three working days before digging to have underground utilities marked.
Wait to start projects until you are sure all lines are marked or cleared. This can be confirmed by contacting your state's one-call system by dialing 8-1-1.
Respect the marks and dig with care, especially when using power equipment. If your project is within 4 feet of the utility marks, modify your plans and stay more than 4 feet from the marks. If absolutely unavoidable to be more 4 feet from the utility line, use a wooden-handled shovel to carefully expose the lines before starting excavation.
Ask your contractor to confirm 8-1-1 has been contacted before allowing digging work to proceed.
In 2019 Wolverine Pipe Line Company received 35,813 one-call requests. Dialing 8-1-1 is a 100% free service where a representative will come to your property to mark the pipeline's exact location, and be on site while you dig if necessary. At Wolverine safety remains our top priority, but it takes a partnership to keep our community safe. Always remember to dial 8-1-1 before you dig.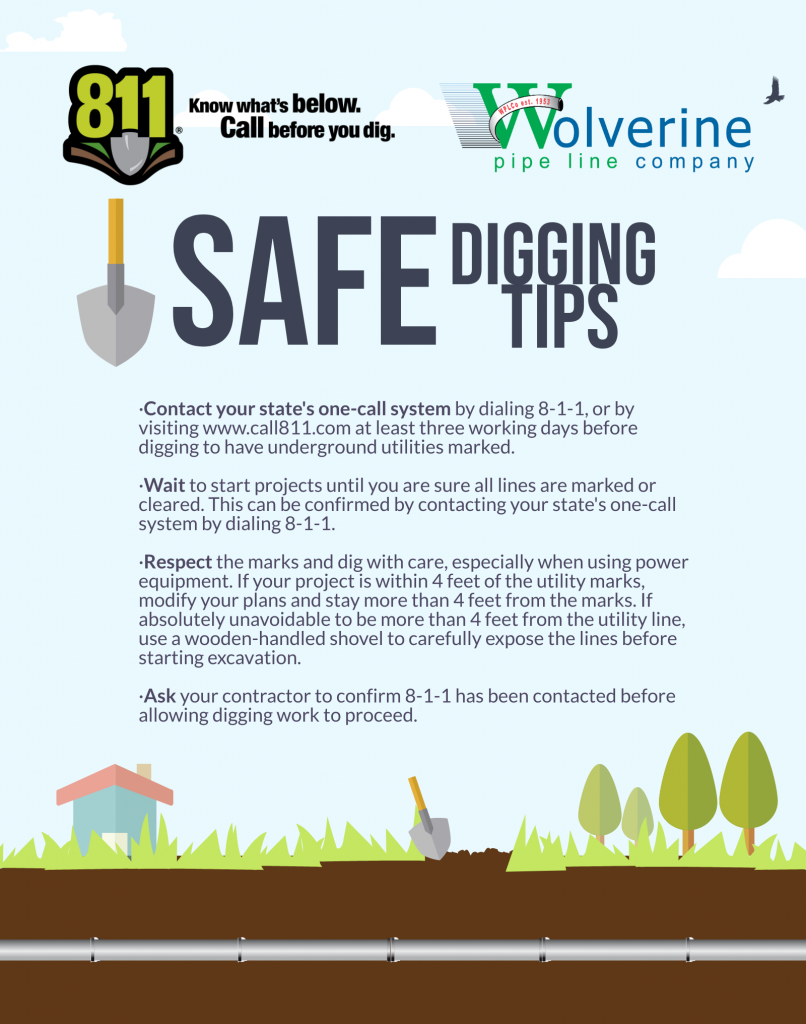 Wolverine Pipe Line Company is a fuel transportation company headquartered in Portage, Michigan. Wolverine operates ~700 miles of active pipeline transporting refined petroleum products from refineries in the Chicago area to the Illinois, Indiana, and Michigan markets. Wolverine transports approximately 30% of all gasoline and diesel fuel used in Michigan.